You'll find all the information you need to know about working with me over at my main website, www.sharonblackie.net. Please visit to find out about the following offerings:
Sisterhood of the Bones
'Sisterhood of the Bones' is an exciting and popular ongoing project which has evolved naturally out of the 'Singing Over the Bones' creative retreats I've been running for the past couple of years. It is part course, part creative offering: a unique year-long experience for women who want to delve deeply into wild stories, myths and archetypes, and so to connect in a grounded, rooted way with the cycles and seasons of the year. This project reclaims the magic of the old-fashioned letter. Subscribe to this year-long course, and in the days before each of the eight seasonal festivals, you will receive a large envelope in the mail, full of treasures, including a personal and illustrated re-telling of a Celtic/ European myth or fairytale which has relevance to the festival in question, and a discussion of the psychological and ecopsychological issues that arise from that myth; A narrative map for you to follow: one which you will slowly piece together over the eight installments of the course, and which will allow you to experience the transformative power of myth and story in the initiatory journeyings of your own life; a little magic from the hills of Donegal – card, a flower, dried herb, or a small treasure from the land.. Find out more, and subscribe, here.
Reclaiming the Wise Woman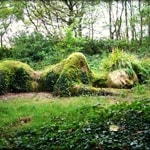 Beginning in October 2015 I'll be offering a new course in which we will explore and reclaim the Wise Woman tradition, bringing it alive and making it relevant to the world we live in today. We'll explore both old and new representations of the Wise Woman in myth, story, literature and art. We'll explore a range of skills and practices – practical and creative, and always, always deeply grounded – which help us develop a rich and authentic relationship with the natural world around us, and bring us back into balance with the land on which we live. We'll learn to listen to the land's dreaming, and to weave ourselves fully into the web of life. The course will take place online, and by post, with thirteen instalments organised around the year's New Moons. Find out more, and subscribe, here.
Retreats
'Singing Over the Bones' creative retreats for women writers and artists take place on the beautiful wild Beara Peninsula in the south-west of Ireland. Beara is the home of the Cailleach Bheara, and is steeped in myth and story. We stay at the beautiful Anam Cara Writer's and Artist's Retreat centre near the gorgeous coastal village of Eyeries.
During 'Singing Over the Bones' retreats we explore the ways in which we can bring into being, through writing, expressive arts and other creative work, that uniquely female sense of wildness which so often remains unawakened or suppressed. We do this primarily by working with wild myth and archetype, and by mapping and storying our connections with the natural world. The approach is grounded and embodied; it is rooted in sensory experience, as well as in the poetics, dreamings and storying of the land and its inhabitants. It is about re-enchantment, for sure – but it is also about  quickening. We aim to create a warm, supportive but creatively challenging and transformative atmosphere in which we spend time indoors and outdoors, exploring a unique combination of practices — writing, storytelling, creative imagination and expressive art techniques (such as journalling) — to deepen our connectedness, catalyse our own personal metamorphoses, and enrichen our creative practice.  There is free time for private creative work, walking, and relaxation, and the evenings after dinner are devoted to conversation, readings and to myth- and storytelling by the fire.
The October 2015 retreat is currently fully booked, but there are a few places available in March 2016. Find out more here.
Creative offerings
The Crane Bag
Each Crane Bag is unique: a personal, hand-crafted offering designed and created specifically for the person who orders it. It offers support, guidance and inspiration for whichever stage of your Journey you're on right now. It is a therapy session in a bag; a 'reading' which comes right out of the hills and bogs of Donegal. It is a hand held out in a time of need; it is an offering of ancestral wisdom derived from the land, its inhabitants and their stories. It is both mythic and grounded, and rooted in the traditions of this beautiful old country. Find out more here.